News
Fermanagh Hay Meadow Competition
Keeping our meadows.
EFNCP was running a hay meadow competition in Fermanagh (Northern Ireland) to increase awareness for this endangered grassland type.
The use of silage as the main winter feed source for livestock has helped in the development of Irish agriculture, less weather dependent, higher yields and higher feeding value all hastened the switch from hay to silage. However there have been negative environmental consequences, the flower rich colourful meadows once a common sight throughout the country has been replaced by the green swathes of agricultural grasses. This has lead to a decline in the occurrence of many plant species and the associated wildlife that were found in our hay meadows. Fortunately the practice of hay making can still be found on some farms, particularly in Fermanagh.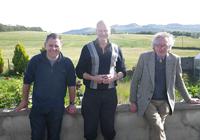 To recognise the importance of these remaining meadows, the Vaughan Trust sponsored a competition for Fermanagh farmers to reward good examples of hay meadow management. The competition was run by the European Forum on Nature Conservation and Pastoralism (EFNCP) a non-profit organisation which exists to increase understanding of the nature-conservation and cultural value of certain farming systems within Europe.
Hay meadows are generally thought to survive in the west of Fermanagh but the competition attracted entrants with good quality hay meadows throughout the county. The standard was exceptionally high leaving a difficult task for the judges involved. The overall winner was Bennie Flanagan from Garrison. Mr Flanaganís meadows showed a good balance between yield and a high number of plant species including a range of orchid types and the protected Blue-eyed grass, a widespread plant in North America but within European it is confined mainly to Ireland.
Other winners of the competition included Michael Kerrin, Marlbank, Edward Maguire, Magheraveely and Pat Higgins also in Magheraveely. All these meadows were excellent examples of the traditional hay fields once widespread across the country. These meadows may not match the yields of more intensively managed silage fields but they offer so much in providing the right conditions for much of our wildlife. Fermanagh is lucky to have farmers willing to maintain these biological hotspots.
Back to news overview