News
Spanish school children learn why we need shepherds
Does the general public appreciate what shepherds do, or why they are important for the future of our rural landscapes? Even in rural communities, the shepherd, and especially the goatherd, is often under-valued and little understood. Perhaps the best place to start changing attitudes is with school children, especially getting them out in the country with a shepherd and his flock.
In 2012, the Asociación Pastores por el Monte Mediterráneo (EFNCP partner in Andalusia) organised a programme of hands-on workshops for school children in the areas of Cabo de Gata-Níjar Natural Park (Almería), and Sierras Tejeda, Almijara y Alhama Natural Park (Málaga).
The days' activities were made possible thanks to the collaboration of local goatherds and their flocks that make their living grazing and browsing within these Natural Parks. The farmer in Almería has 200 goats of the Celtibérica breed, while 400 Malagueña goats participated in the Málaga workshop. Plus of course the teachers, specialised monitors and around 20-30 fascinated school children at each workshop.
During a total of 3 days of interactive games, participation and demonstrations, the children learnt all about the local landscape and wildlife, and the role of grazing and shepherding in creating and maintaining this landscape.
They saw at first-hand how the goatherd manages his farm and feeds his flock. The children tried their hand at milking the goats themselves.
They learnt, and even acted out themselves, how the goats keep open fire breaks, and conserve a mosaic of different habitats - what we grown-ups call ecosystem services.
The children learnt about the role of goat farming in the local economy, acting out the process of making cheese the local way, and learning about the nutritional values and "ecological footprint" of artisanal cheese versus its industrial competitor.
At the end of the day, they tried out and took home a board game called The Mediterranean Shepherd, which they used at school afterwards.
The workshops were reported on regional and local radio programmes to increase public awareness of the importance of shepherding.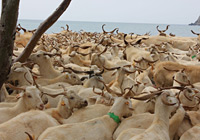 EFNCP is proud to support these innovative actions in Andalusia through our DG ENV - funded work programme, and we hope to do more of this in the future.
Back to news overview